Create a project calendar
In this tutorial you'll learn, how to attach a calendar into one of your Jira projects.
Why you should read this tutorial:
If you're using Event Calendar for Jira and you'd like to have an access into your calendar directly within a Jira project sidebar, you need to allow it directly in the addon settings.
Tutorial
1. Open up the settings
From the top navigation menu select Apps -> Calendar. It will open the calendar settings.
2. Enable project
Now choose a tab "Enabled project" and find a project that you want to have your calendar displayed in.
Once you find the project, simply activate the calendar by switching the toggling button into green color.
3. Configure the calendar
With the steps above, you allowed this plugin (Event Calendar for Jira) to be connected to projects.
Now we are going to create a new calendar (or connect your existing one) with the project.
If you need to create a new Calendar, check out the tutorial 👉 How to create a new Calendar. If you did create a Calendar already, let's proceed to configuration.
From with the top navigation menu click Apps -> Calendar. Once the new screen appears, click "My Calendars" secgtion.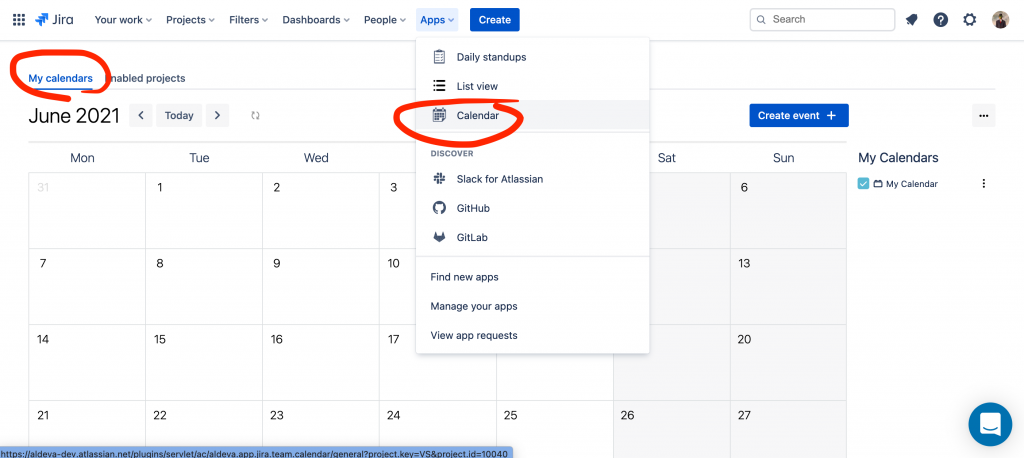 Once proceed as on the steps above, you should see a list of your available calendars on the right. From within the list of calendars click the "three dots icon".
After that a list of options appears. In the list of options, click "Assign to projects".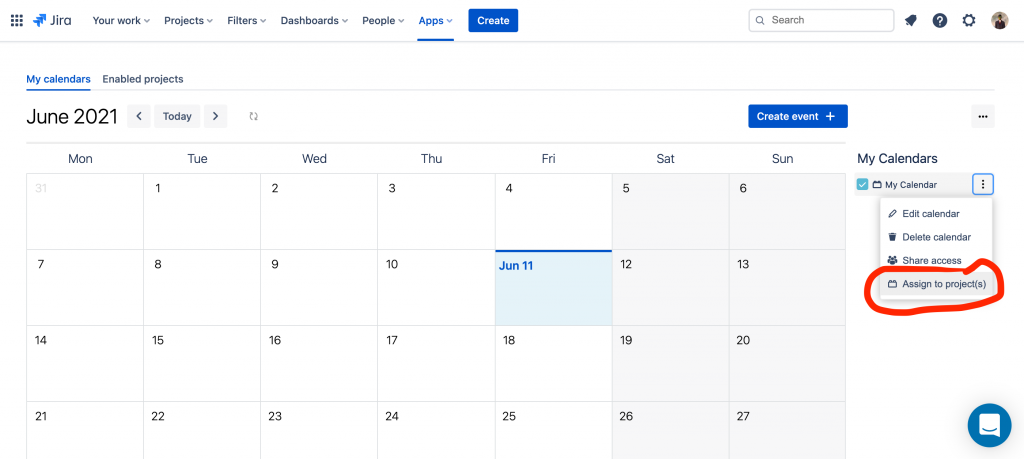 Once a dialog window shows up, simply look up projects that you want to have your calendar assigned into.
Normally, you would want to have just one calendar per project (so as you do not mix up issues/events), but you can totally create a single calendar that will be assigned to multiple projects.
4. That's it!
That's it. Once you return to your project, you can see a new tab "Calendar" shown within the left project sidebar.
Wrapping up
In this tutorial you learnt, how to display a tab "Calendar" within your Jira project interface. If you want to have your calendar shown within more project, you need to activate the calendar for every project separately.
Read next